Greenhouse farming in Kenya is popular. Today we celebrate an exceptional woman who left formal office job to venture into capsicum & tomato farming
It is said that ambition is the path to success and persistence is the vehicle that you arrive in. Lucy Thuo's life has been about ambition and persistence.
Successful Graduate Farmer
A trained teacher by profession and a graduate from the University of Nairobi, she was employed for less than two years. Ambition and love for her husband saw her quit her job to begin a new life in Canada where she resided for close to a decade. She then relocated to Kenya and tried her hand in the retail business where she run a successful supermarket business for close to two decades. Ambition and a yearning for something different led her to farming.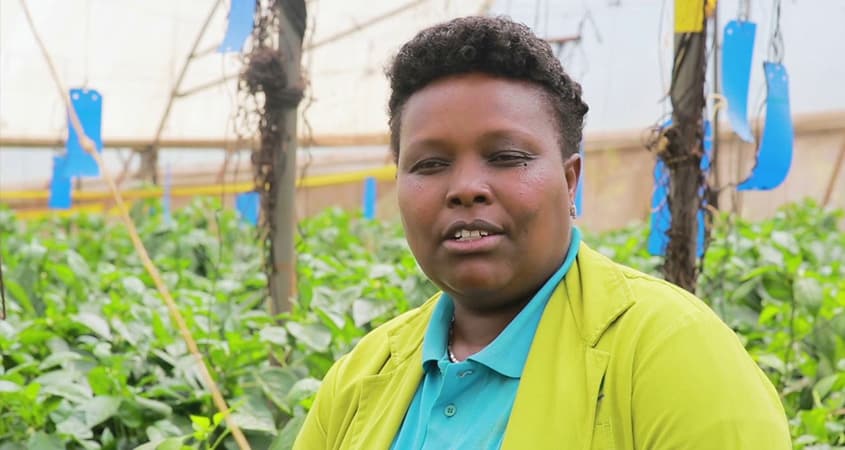 Her first attempt at farming was a total flop and she almost gave up on farming entirely until she met Daktari wa Udongo, Benson Karanja, who encouraged her to try again.
I did farming the guesswork way and the result was very bad. I did not even recover my capital and quit farming for a few years, confessed Lucy Thuo.
However, after meeting Daktari wa Udongo Benson in 2016, she was encouraged to try again and this time she was advised by Daktari wa Udongo Benson to seek expert advice and perform soil tests before planting anything.
She followed his advice and the results were extremely encouraging this time round. Through this she realized that it was important to do greenhouse farming blindly by just taking seed and putting it into the ground but it is important to understand exactly what is in your soil before planting.
Profitable Greenhouse Farming
Once you know what is in your soil through a soil test, you will be able to know what is missing in regards to nutrients and minerals and what you need to add into your soil to correct it. Different plants require different nutrients and different pH's to do well.
A soil test is the analysis of a soil sample to determine nutrient content, composition, and other characteristics such as the acidity or pH level. Soil testing which is an essential part of profitable farm management will save a farmer money and help them increase their yields by up to three times.
How? Soil testing will help a farmer decide what inputs (fertilizers) their soil needs and how much of it to apply. The current common practice is that most farmers simply apply fertilizer based on what they think their soil needs without carrying out an actual analysis of their soil.
This leads to unwise investments through purchasing the wrong inputs (fertilizers), unnecessary inputs (fertilizers) and over using them which in turn leads to inflated farm expenses, reduced yields and profitability. A soil test will ensure that they use the correct inputs (fertilizers) and in the right quantities for their specific crops and soils.
Reduced Greenhouse Farming Pest & Diseases
Soil testing will also allow the farmer to correct the health of his/her soil. Crops grown in healthy tested soils are more resistant to pests and diseases. This therefore reduces the risk of crop loss due to pests and diseases. Farmers also save on the cost of buying pesticides. A healthy balanced soil is also the basis for high yielding crops which will in turn earn the farmer more money.
It is also important to note that because of soil testing, a farmer's risk of crop failure is greatly reduced. If a farmer's risk portfolio is low, it helps the farmer easily get credit from financial institutions and crop insurers are happy to cover that farmer.
Soil testing turned around Lucy's greenhouse farming for the better by helping her realize profits from her nine greenhouses where she plants tomatoes, Chinese vegetables, red, yellow and green capsicums. From major losses to handsome profits.