Wheat farming in Kenya is often witnessed in huge vast farms in Narok, Timau and Nakuru regions. What follows is an incredible story that is nothing short of legendary.
Driving through Narok county in the month of June guarantees beautiful sceneries thanks to the massive trackfields of wheat whose sight comes close to a beautiful green Persian carpet. Narok is the hub of wheat growing in Kenya. If you enjoy bread, cake or cereal for breakfast, then you have a lot of the large scale farmers in the region to thank for their efforts in ensuring you can still enjoy your breakfast.
Wheat Farming In Kenya
Just a few metres off the Narok – Bomet road lies Olerai farm. The name Olerai is drawn from the acacia tree, as referred to by the Maa community who are majority of the residents in the Narok region. The farm is run by Hugo Wood.
Hugo is no stranger to most in the Narok region, having been in the large scale wheat farming in Kenya for close to half a century. He is a farmer and business man who has served as the founding chairman of Cereal Growers Association (CGA) for ten years and definitely a force to reckon with. His record of business interests includes a flour milling factory, a seed plant, a number of top of the art farm machinery and many beef and dairy cattle.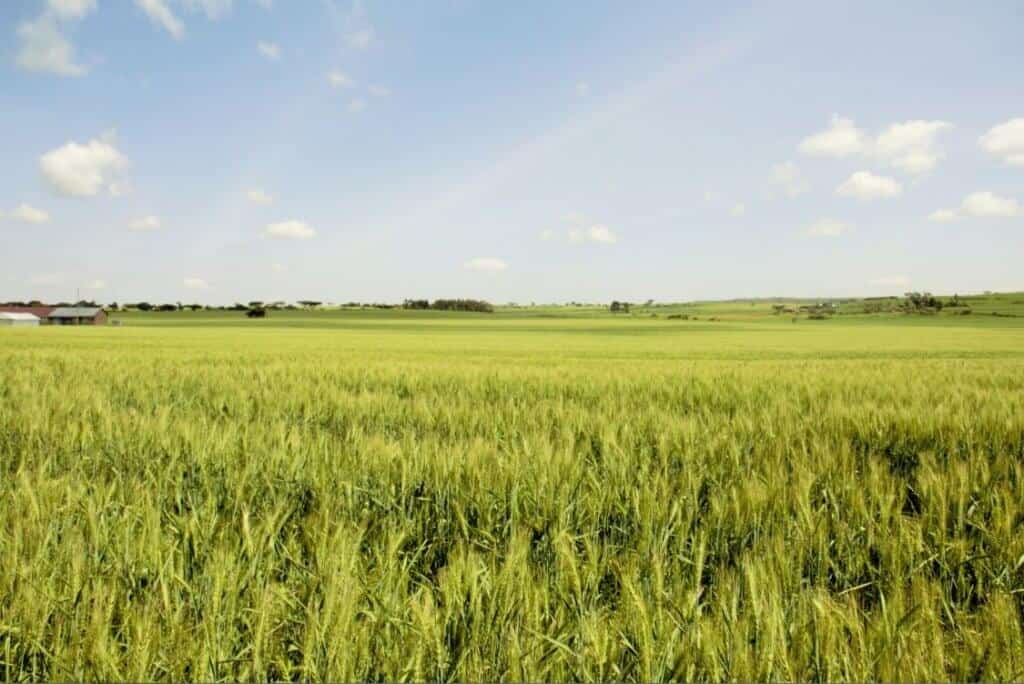 We got to his farm at around nine o'clock. There's a large gate leading to what looks like a runway for a small aircraft which we later confirm to be as we see it parked neatly in a makeshift hangar. He gets to us shortly and after pleasantries, he ushers us into his living room through a beautifully manicured grass lawn. The lawn is surrounded by flowers and different plant species making it all so breathtaking. Towards another edge of the lawn is a small water pond covered in beautiful water lilies and next to it is a large tree filled with the melodius chirping of weaver birds.
Hugo is full of energy and radiates admirable health for a man his age. He is almost clocking seventy. Even though he has since downsized his total acreage under cultivation, his record of the highest acreage cultivated at a go stands at 11,000 acres. We ask how he managed such large scale farm operation and his answer is simple:
"When you are passionate about what you do, you do all it takes to make sure it works. I also had the help of my wife Rachel, who ran the office and finances, and two sons who did all the machinery and field work."
For a man who first settled in Narok only armed with hope and determination, his story is not only inspiring but that of a man who came, saw and conquered. Hugo was born in Kenya but brought up in Tanzania, West Kilimanjaro. The thing that stands out the most about his family is the trailblazing nature that runs through them. His mother Susan Buxton was a farmer and also Founder of an export beads business – Kazuri while his father Michael Wood is the founder of AMREF and the Flying doctors.
In 1975, Tanzania's President Julius Nyerere took over their farm with his' UJAMAA' government, which is when Hugo and his family moved back to Kenya. Hugo later moved to Brazil for one year and after picking a few learnings on wheat farming, moved back to Kenya and joined his Brother-in-law Robin Ulyate who was already doing well, wheat farming in Narok.
Starting Out As a Wheat Farmer
In 1977 when Hugo descended into Narok, the only option he had was to make things work. His greatest attribution to his success is having pushed through even when things got tough.
"The first two years were challenging, my wife Rachel and I lived in a tent as we tried to make things work," he says. "Like most start-ups, our main challenge was financing. We were however lucky to get in while the Wheat Board was still financing farmers and they financed us for our first season."
His first harvest was in 1978 and he got financing for the following seasons from banks and struggled on like that until where he is today. For Hugo, getting land to lease was easy at the time. The weather was also good and the soils were still fertile which gave him a bountiful harvest in his early seasons.
When we asked why he decided to venture into farming and more so large scale wheat farming in Kenya, this was his answer, "I thoroughly enjoy farming and I was familiar with it being that my mother was also a farmer. My education background is in Agriculture. It was the sensible thing to do considering I wanted to work for myself."
Hugo is currently almost out of wheat farming and has since ventured into seed maize farming under the trade name Olerai Seeds. "I am really enjoying the seed trading and marketing side of it," He says. "This year, I am concentrating on seed maize farming where we have 300 acres in Marigat. It is a scheme under the National Irigation Board (NIB) where we are working with several small holder farmers as well.
Some of Hugo's highlights in his farming journey is the success of his ventures. "As a business man, being able to generate a tidy sum from a smaller investment is a big boost to happiness. I look back and I am satisfied and happy I did this," he says. Hugo tells us that It has not been all rosy.
"At one point I had taken a Sh. 25 million loan and put it into 8,000 acres of wheat, which was all wiped out by drought. It was devastating."
He however managed to pull himself back together by going back to the bank armed with a plan B. Luckily the bank bought into it. "The bank manager asked what I had in hand and I told him I had only straw. That helped to cover part of the loan. I have no idea what could have happened if the bank wasn't so supportive," he adds.
Cost Of Growing Wheat Per Acre
Hugo explains that back when he started, the cost of production inputs was way lower than it is now. For example, he only needed to use one chemical and seed dressing and about six to seven bags per acre to break even."Now you need not less than fifteen bags an acre to break even and make some profit and to input about eight different chemicals," he informs us.
Hugo views the unavailability of land and the short leasing periods of one year to be a great impediment to successful farming. He views short term leasing as a challenge because then you cannot invest so much in improving the soil. This he says has resulted in a lot of the farmers mining all they can from the soil without investing in it because they are not assured of a lease renewal in the next year.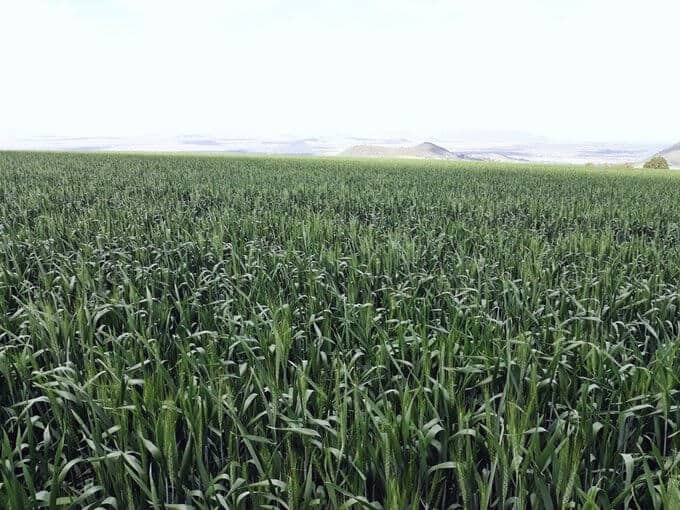 Hugo also notes that the weather patterns have since changed and one would require a shift from rain reliant farming which can be costly.
Advice to Upcoming Wheat Farmers
Hugo advises that like any other business venture with high returns, farming requires that you have sufficient operating capital especially if you want to do larges-scale wheat farming in Kenya. He also advises that sometimes there are unforeseen mishaps that come along the way that will require that you to either have investors or a separate financial back-up.
"It is always better if you own the land or you have a longer land lease period that means you can invest in improving the soils for better returns." Says Hugo "There's a massive growth in technology that you can explore as a new farmer to help produce more with less costs."
We asked Hugo what reforms he thinks are necessary to make farming even more profitable and sustainable, he pointed out that the current land lease tenure is not very favourable for farmers as it is too short. Hugo also advises that the cooperative movement now being seen all over Kenya is very beneficial to farmers. He strongly believes that farmers can work together as a strong political and trading force that is able to dictate the prices of produce rather than having to accept whatever is offered.
Hugo affirms that CGA is effective in bringing farmers together and getting the ear of Government to help support farmers and urges all farmers to join in and take the active role of ensuring the industry has a bright future. With such a fast expanding population in Kenya, Hugo strongly thinks that agriculture is crucial to our sustained development and food security. "Let us go forward and find ways to solve the many hurdles we have to leap." He adds "CGA has helped us farmers a great deal by lobbying for higher wheat prices and the introduction of duty on wheat imports to protect the local price" he says in conclusion.
Read Part 2 of Hugo Wood story here
This article first appeared in the August 2018 Edition of the Cereal Growers Association (CGA) Magazine, The Sower. CROPNUTS is a proud member of the Cereal Growers Association. Follow Cereal Growers Association of Kenya on Twitter @CerealGrowersKe