Sunflowers are a fantastic crop for Kenya and can provide extra income for farmers in the off-season as well as many rotational benefits to the soil. But to get top yields it is crucial to check on your herbicides and keep the crop free from weed competition for the first 6-7 weeks. Good planting ensures the crop takes over from that point as the canopy closes over.
Several herbicide options are available including S-metolachlor, acetochlor, pendimethalin and linuron, but on their own rarely provided sufficient control of a broad spectrum of weeds. So, it is important to know what weeds you are likely to encounter so that you can use a mix of the above – where approved on the label – tailored to your shamba.
Cleavers are problematic, as are legume volunteers although these tend not to be very competitive.
Remember that grasses can be controlled with post emergence herbicides including fluazifop, quizalafop and clethodim. Having said that, resistance can develop rapidly to this group so any residual herbicide that can take the pressure off these is invaluable.
In some countries metribuzin is approved at low doses incorporated into the soil pre planting, but I would not recommend this for growers new to the crop.
Dimethenamid is good but is only available with saflufenacil in Kenya, which has a 6 month plantback. Interestingly, if you do 'accidentally' plant sunflowers after saflufenacil it shortens the crop, but a knife-point tine on a wide row throws the soil away from the seed takes care of this
Arable Weeds Guide
We have just released our "Arable Weeds of Kenya Guidebook". It is totally free and contains photos and descriptions of some of the most common weeds encountered across the country, to help you identify and manage them.
Please contact us support@cropnuts.com for a PDF copy. We will hopefully go into print at some stage, but for now a simply PDF stored on your mobile phone is a handy and practical guide.
As always, feedback is invaluable so if there are weeds missing, or in fact closely related sub species exist that may be confusing, please let us know!
Arable-Weeds-Guide

Improving Fallow Weed Control
One of the first stumbling block for many new notillers is how to control weeds that they would normally cultivate out in fallows. The big three are Conyza, Mallow and Commelina.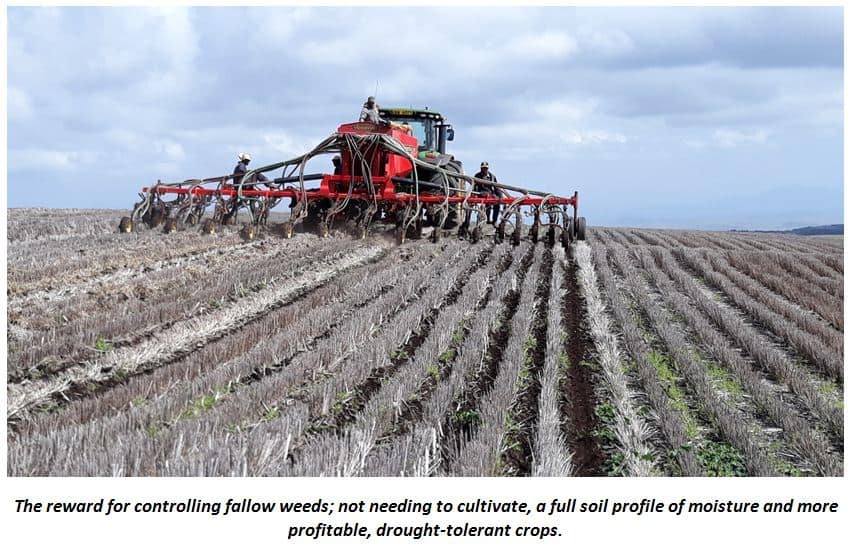 The first, major point is that chemistry alone will not work. Rotation, crop competition and hand weeding are vital parts of the system, and using a mower to mechanically cut the weeds can also help.
Here are some of the lessons from some recent trials we have done:
1. Use quality glyphosate if you are trying to control difficult weeds. 3 l/ha of a quality, trustworthy brand costs the same as 5 l/ha of low cost generic. In most trials 3 l/ha of a quality glyphosate shows better weed control.
2. Add ammonium sulphate to the spray tank first and let it mix – this massively helps lock up Magnesium and Calcium ions that would otherwise lock up some of the glyphosate.
3. Acidify the water – get the pH down to pH 4 by using a very inexpensive acidifier available from many of the larger agro dealers. I try to avoid naming products here to remain independent, but Bladbuff and Lower 7 are great, and are far less expensive than adding more glyphosate.
4. Spray weeds when they are small and more susceptible.
5. Spray weeds that are actively growing, in a morning is best before it gets hot and dusty.
6. Use low water volumes – 100 l/ha is almost too much.
7. Calibrate your sprayer and get a good set of nozzles.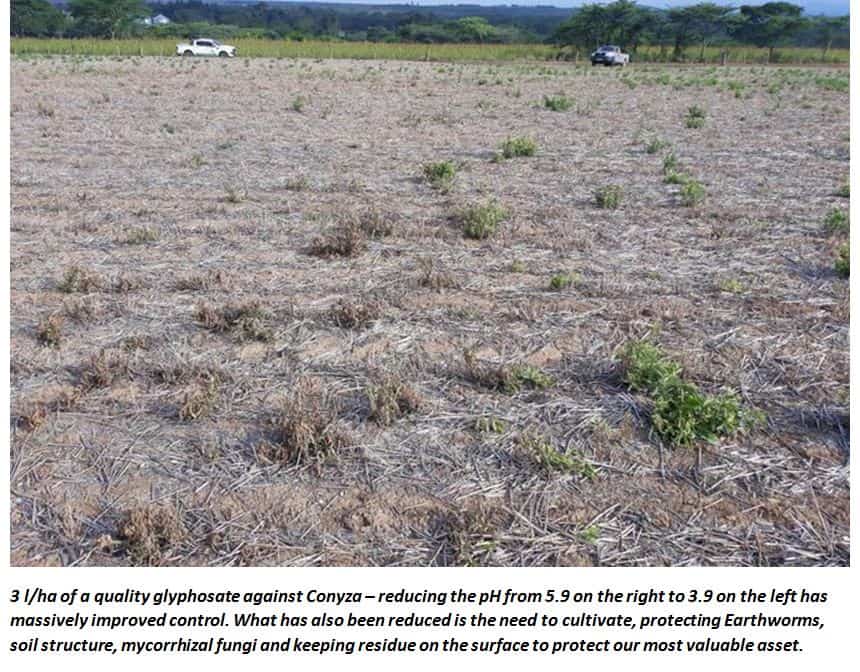 Till next time,
Happy farming!
David
About David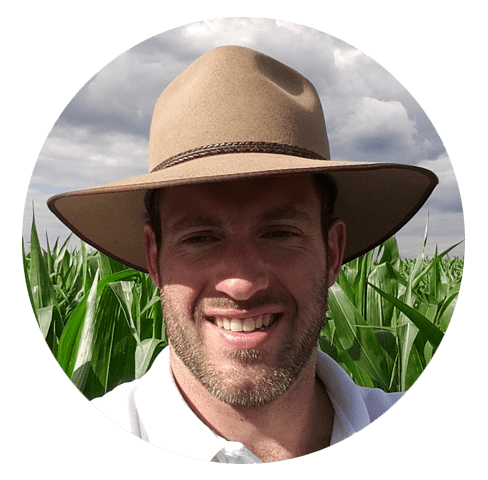 David Jones is the Broad Acre Specialist at Crop Nutrition Laboratory Services Ltd. (CROPNUTS). David has a keen interest in soils and no till farming systems where he has undertaken work looking into weed levels and changes in soil structure, and has extensive experience in field trials and in the development of precision farming techniques. In his spare time he enjoys playing rugby. Follow David on Twitter @Cropnuts_agron