Barley farming in Kenya is setting new yield records as witnessed in various barley trials conducted in Timau, Meru County.
Trials are a huge part of making progress in farming, and back in September 2018 we harvested something truly special. A plot of barley – 10 metres long by 2 metres in length – that produced a yield of 11.84 tons per hectare (52 bags per acre).
Barley Farming In Kenya
To put this in context, barley farming in Kenya produces an average yield of somewhere between 2.5 and 3.0 t/ha. So thanks to the Agventure Centre of Excellence and CropNuts Trials Networks, we take a look at how this was achieved, and what lessons can be put into practice on your farm.
Healthy soil. The soil on this farm is well draining but no more special than any other that I come across. What has made the difference here is rigorous Controlled Traffic to avoid compaction, and several years of notill which has provided a fantastic soil structure and deep rooting.
Soil testing. I knew the soil was low in Phosphate and Copper so we adjusted seedbed fertiliser accordingly, and applied three sprays of foliar copper from an early stage.
The barley was planted after canola and the farm follows a peas; wheat; canola; barley rotation. This vastly reduces soil borne pests and diseases such as Root Lesion Nematodes, Crown Rot and Take-all.
Good planting. 150 seeds per square meter at a consistent depth and spacing. Note that I do not talk about kg/ha for precision work, as seed rate varies according to grain size.
Right variety. This was first and foremost a trial examining new barley varieties. RGT Planet is currently undergoing NPT trials with KEPHIS and is a phenomenal variety around the world. It is unlikely that we will see a variety like this again for a long time.
Keep disease out. The seed had Celest Top dressing plus an experimental seed treatment of Fluopyram for Net Blotch, then the following:
| | |
| --- | --- |
| Growth Stage | Fungicide |
| GS 23 mid tillering | 0.5 l/ha Artea (propiconazole + cyproconazole) |
| GS 30 stem erect | 1.0 l/ha Skyway (prothioconazole + tebuconazole + bixafen) |
| GS 41 flag leaf sheath ext. | 0.75 l/ha Skyway |
| GS 65 mid flowering | 1.0 l/ha Abacus (pyraclostrobin + epoxiconazole) |
Monitor the crop. I inspected the plots every 2 weeks and took leaf samples. Copper and Boron were identified as being low so additional foliar Copper and a Boron spray were applied.
Top dressing. Available Nitrogen was measured down to 60cm prior to planting and showed only 90 kg/ha available. I applied 125 kg/ha DAP in the seedbed, 175 kg/ha CAN at early tillering, then 175 kg/ha of 40N+6S.
Eliminate weeds from an early stage. Simple.
Great people. Too often we forget that agriculture relies on great people. This was a team effort between Marania Farm, Timau, The Agventure Centre of Excellence and Cropnuts.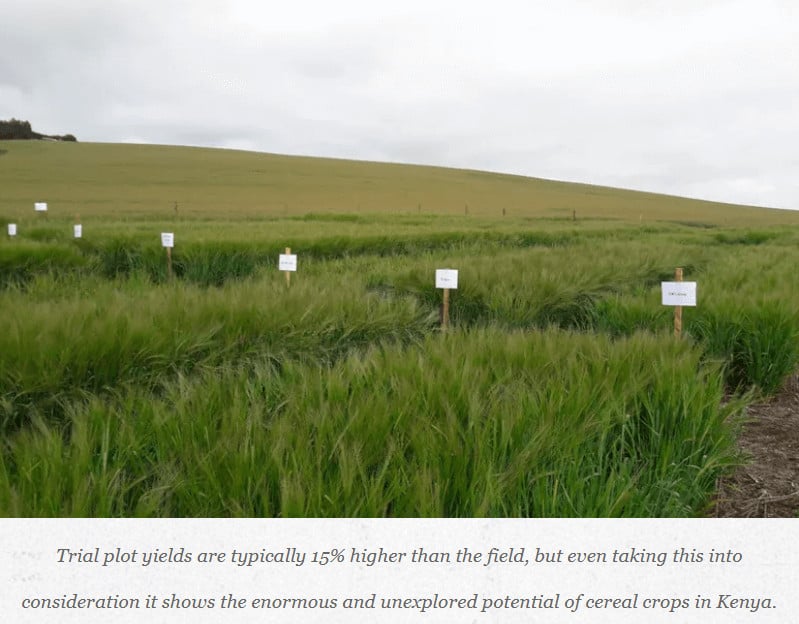 Thank you and well done to all those involved!
| | |
| --- | --- |
| Barley plot – vital stats | |
| Plants/m2 | 115 |
| Tillers per plant at ear emergence | 4.8 |
| Ears/m2 | 552 |
| Planting date | 12th March |
| Harvest date | 7th September |
| Duration of crop | 25 weeks / 175 days |
| | |
| Nitrogen in soil at start to 60cm | 90 kg |
| Nitrogen inputs | 138 kg |
| N removed in grain at 1.5% N | 178 kg |
| | source: Cropnuts/Agventure Ltd. |
Farming for the future requires a change of approach. Monoculture, soil degradation and climate change and soil degradation are threats to the future of how we feed the planet. Agventure Ltd set up the Center of Excellence for Crop Rotation to help farmers diversify cropping systems and introduce techniques which have a long-term outlook to improve soil health. The Center of Excellence for Crop Rotation works extensively with Crop Nutrition Laboratory Services Ltd (CropNuts).
Till next time,
Happy farming,
David,
About David
David Jones is the Broad Acre Specialist at Crop Nutrition Laboratory Services Ltd. (CROPNUTS). David has a keen interest in soils and no till farming systems where he has undertaken work looking into weed levels and changes in soil structure, and has extensive experience in field trials and in the development of precision farming techniques. In his spare time he enjoys playing rugby.