February 2020 Update
The desert locust invasion has spread even further as the map below. This locust invasion is declared the worst in 70 years according to the UN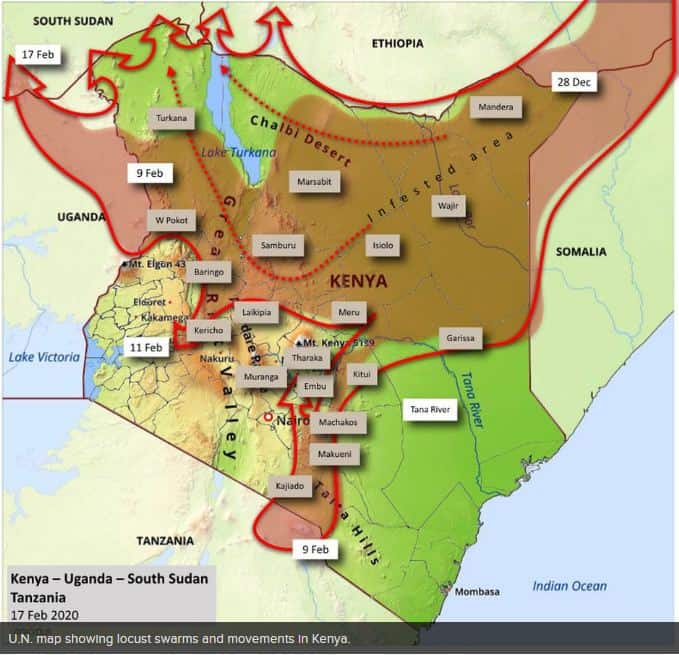 On the shores of Lake Turkana, February 21
Isiolo County, February 23
Sagana, February 5
January 2020 Update
The desert locust risk situation in Kenya remains high as additional swarms arrive via the north-east border adjacent to Ethiopia and Somalia. The swarms have already been confirmed in Mandera, Wajir, Marsabit, Garissa, Isiolo, Samburu and Meru counties.
Locust Invasion
The large immature swarms of locusts first appeared on 28th December 2019, in the North East near the Somali border at Mandera and Elwak. There were some reports that some swarms continued South to reach Wajir.
Locust Control
Farmers of every crop type including livestock are being urgent to make plans to deal with the potential locust plague that spreading from Somalia across Wajir, and has already devoured tens of thousands of acres around Marsabit.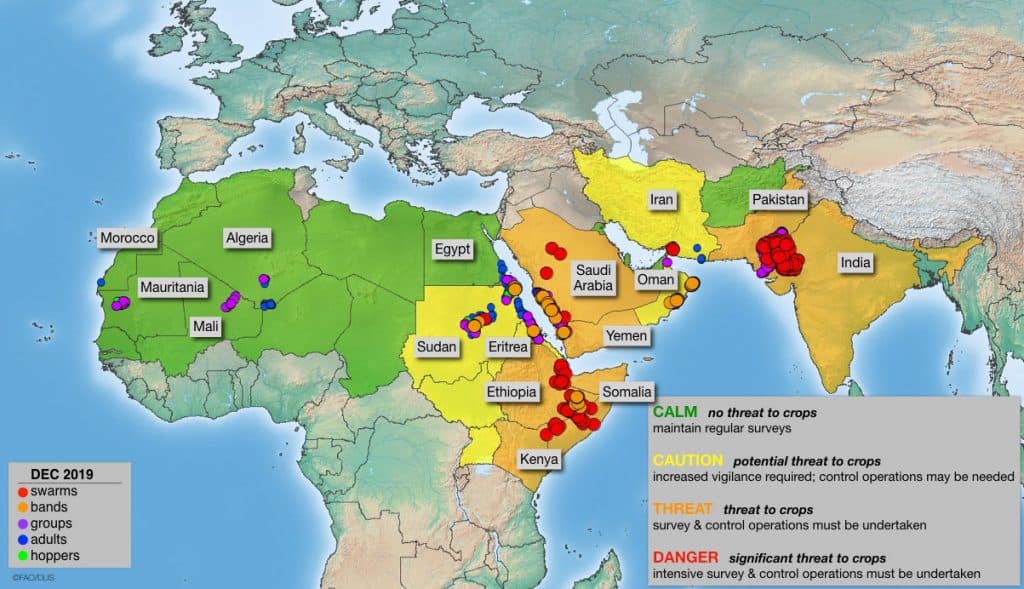 Co-ordinated approach or not, there are steps individual farmers can take to reduce the risk to their own crops, including having the right insecticides in store ready to apply BEFORE the pests hits. Some products have a persistence of up to a week even at Ultra Low Volume, so given the speed that the swarms have moved already, it would be wise to be pre-empting their arrival at any time.
A spray application over as much of the shamba as is practically possible, either with a tractor sprayer or an aeroplane, will buy valuable time, and better to be a week early than a day late.
Contact our crop consulting team for specific independent advice on products, rates and application techniques.
What Insecticide Kills Locusts
There are chemical pest control products that can be used to control locust. ULV (Ultra Low Volume) formulation is best recommended generally for air spray and locust control.
Registered Active Ingredients
In Kenya, currently we have three products registered by PCPB in Kenya for locust Control.
Dimilin OF-6 —Diflubenzuron 60g/l—Insect Growth Regulator by Arysta
Dursban 4EC—Chloropyrifos 480g/l-Registered by Corteva and distributed by Lachlan Kenya
Ripcord- Cypermethrin 50g/l-by BASF
Not Registered Active Ingredients
Below active is can be used, but not registered for locust control.
Fipronil
More Information
According to other countries who have dealt with several locust plagues in the recent years, the best products are either Fenitrothion or Fipronil. Fipronil has the longest residual activity, whereas Fenitrothion and Chlorpyrifos are only active for a week at most.
Fipronil also has the lowest mammalian toxicity, so for spraying big areas it is safer for people. Cypermethrin has very little persistence but fast knockdown. Because of the lack of persistence with cyper and chlorpyrifos, the advice is to spray literally every surface (full rates of Chlorpyrifos are required).
The more persistent products can be sprayed in strips either with aeroplane or by tractor on every couple of tramlines and are sufficient to stop the pest advancing. This also exposes fewer beneficial insects and animals to the chemical.
Our Impression
Individual farmers should probably be applying something, very soon in anticipation of the locusts arriving. The availability of planes cannot be guaranteed, so tractor sprayers are the first line of defense if you like.
In order to move quickly enough we are advising farmers to start spraying boundaries now with 100ml/ha of 20% Fipronil, and to be prepared to spray every fourth tramline in crops to stop locust movement.
Sources: FAO Desert Locust Bulletin Jan 2020, Kilimo.go.ke, Cropnuts Agronomy Team