The arrival of a new fungicide that has passed ever-stricter safety and environmental scrutiny, and improves the standard of disease control in crops is always big news. Newly launched fungicide Elatus Arc from Syngenta appears at a time when registering new chemistry is becoming increasingly challenging globally, and resistance to fungicides is developing at an ever faster pace.
Elatus Arc contains three active ingredients all from different classes; benzovidiflupyr which is an SDHI, cyproconazole, a triazole, and azoxystrobin from the strobilurin group.
The latter two are well-known, established fungicides, but the former is entirely new in Kenya. Originally developed and launched for soybean rust, benzovindiflupyr has also been widely used in cereals particularly wheat, for Septoria tritici control. It is definitely a step up against Septoria when compared to the two current SDHIs on the market in Kenya, fluxapyroxad and bixafen.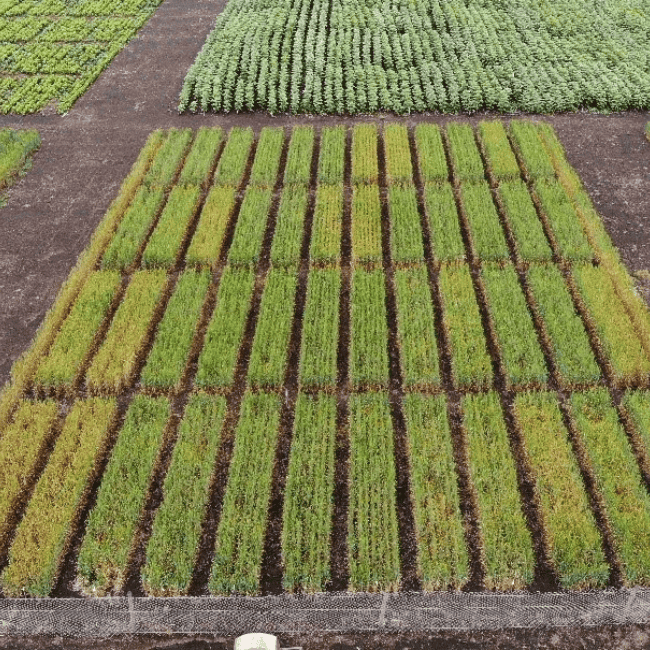 One of our fungicide trials in Nakuru; it is not hard to identify brown plots with high levels of Stem Rust where the fungicide program has not been sufficiently robust.
Realistically it is not a major step forward in Septoria control, but to be objective it does not need to be. We have nowhere near the Septoria pressure of countries such as Ireland, where untreated crops can resemble glyphosate spray injury!
The formulation that we have will be a very strong T2 product, covering off Septoria, Stem Rust, and Yellow Rust. This is the time when the biggest gains from fungicides are usually seen, as the all-important flag leaf is protected.
Elatus Arc will have some limited activity on Fusarium; not that it is a T3 choice, but if the ear wash timing slips on a variety such as Mwera, Robin, or Njoro 2 you are very unlikely to see infected heads. Just do not rely on it to control Fusarium in very susceptible varieties for example Kasuku or Brambling; these situations require a specialist T3 which means prothioconazole.
The second of the SDHI-containing products available in Kenya, Ceriax, is strong on Septoria tritici, exceptional on Yellow Rust but the weaker of the three on Stem Rust. We often see it running out of persistence in Stem Rust susceptible varieties Robin and Hawk, but in Brambling which has poor resistance to Yellow Rust but better Stem Rust genetics, it is a good T2 fit.
Skyway, the third SDHI option covers everything reasonably well – it is a solid all-round product. It is weaker on Yellow Rust but because it is the best of the trio on Fusarium it takes the pressure off in varieties like Impala and Kasuku if the T3 spray is delayed.
The more I see Elatus Arc in trials, the more I think this might just be the product that allows us to play with T1 or 1.5 timings in more resistant varieties, stretch the interval, and come back at full ear emergence with a T2.5 spray.
Varieties such as AGV249 and Mwera are strong on Stem Rust and Fusarium so Elatus may give us a sensible chance of reducing the number of fungicides in the right situation, without too much risk. Normally, suggesting that a product is a 'T1 fungicide' is slightly disparaging; in this case, it is a compliment.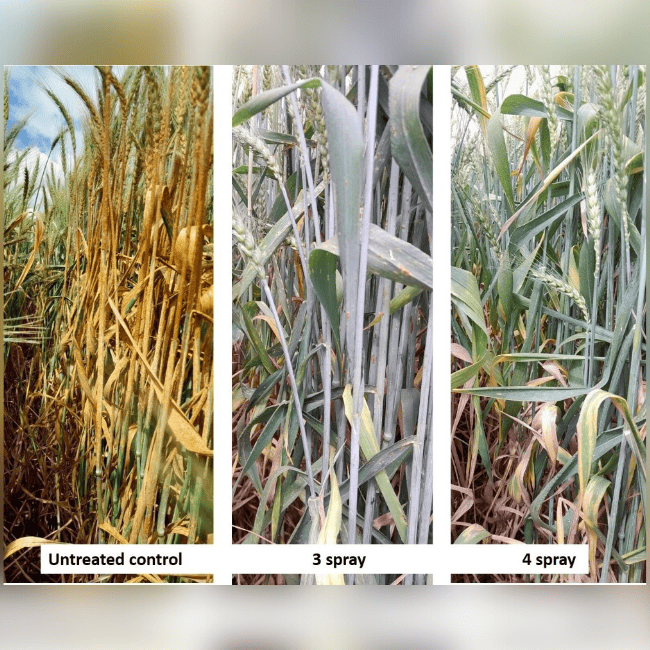 Stretching the fungicide intervals in a high-pressure season puts a lot of pressure on disease-prone varieties like this Robin. With newer varieties and fungicides, however, it can be done.
If one were to be hyper-critical, 30g/ha of the SDHI is a low dose (take a look at AHDB dose-response data on Septoria) and the other two actives offer very limited activity on Septoria. That said, have any triazoles offered serious control of Septoria since the 2000's?
Don't forget that Elatus Arc is also a useful option on barley. It is arguably not its forte, but it is good to know that the product is there and we have another option. It will also be very useful on maize.
A note on independent agronomy: As a commercially independent agronomist I do not endorse any product or company. My recommendations are based solely on independent trial data and experience, with no commercial bias or commission derived from product sales. It is important to understand which products and approach fits your own situation.
Battle Ryegrass On All Fronts
Ryegrass remains one of the foremost difficult weeds to control in areas such as the Mau and is increasing through the Rift Valley and other highland areas such as Molo and Timau.
More suited to cooler temperatures than Brome, Ryegrass is not only a prolific seed producer so multiplies very rapidly, but also tends to have a much longer germination period than other grass weeds. In other words, waiting for a flush of weeds to spray off before planting rarely solves the problem as the weed continually germinates over several months.
Ryegrass also has a history of developing resistance to herbicides – not only herbicides in cereals but many of the 'fops and dims' or Group A herbicides in broadleaved crops (familiar trade names are Agil, Fusilade, Pantera etc).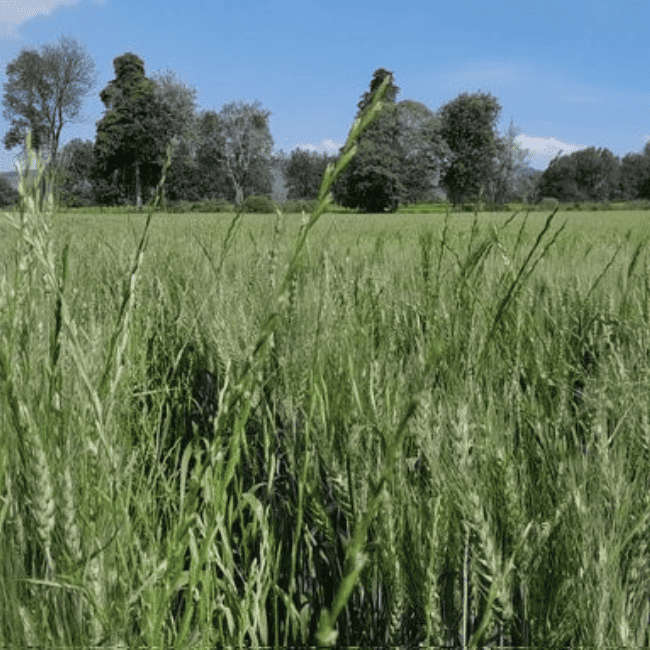 Getting rid of Ryegrass requires a zero-tolerance approach.
So what can you do? The first thing is to put aside herbicides for a moment. Consider these a nice to have that will make life easier, but which cannot be relied upon forever. Think instead about farming practices, or cultural controls such as:
Changing the season – you can delay sowing but Ryegrass germinates over months rather than weeks. If you traditionally plant in April but have a field with terrible Ryegrass pressure, you have little downside from planting in August or September to erode some of the seed bank in the soil.
Crop competition – barley is more vigorous than wheat, and stiff varieties such as Planet or Cocktail allow the seed rate to be increased with less risk of lodging. In the past specific varieties have been bred to be planted at very high seed rates without increased screenings or bushel weight.
Varied cropping – a fast crop such as peas allows the Ryegrass to be cut before the seed is viable, dense canola will drastically reduce seed return and beans allow the use of an inter-row mechanical weeder.
Moisture seeking – if you can plant deep, into moisture and establish the crop before the rain arrives, this can be very successful.
Once you have implemented some of the above measures, it is then time to look at using chemistry to help:
Pendimethalin – various products available. Provides more control of Ryegrass than you think, typically 50-70%. Remember that you need a fine, level seedbed for best results with any residual herbicide.
Flufenacet – usually more of a mixing partner to pendimethalin but can be used as a standalone product. Resistance in Ryegrass has increased gradually in most countries over the years but is still effective. Quite a short half-life in the soil; don't expect more than 3-4 weeks of activity.
Post-emergence of the crop Atlantis gives around 50% control of most Ryegrass populations at best and is of course in wheat only. Not barley. Be aware that Atlantis products in other countries contain much higher amounts of mesosulfuron as they are targeted at winter crops where crop safety is less of an issue. Needs a suitable adjuvant to be added too.
Axial occasionally gives 30% control, but target site resistance usually develops rapidly. I generally find that it is largely ineffective once a field has received three or four applications. Fenoxaprop and clodinafop will not control Ryegrass; do not be persuaded by anybody who tells you otherwise.
Pyroxsulam used to give reliable control but is rarely more than 25% effective in the field.
Ultimately clethodim is by far the most effective in-crop herbicide for controlling Ryegrass. It is available in many products and depending on the label, can be used in a range of broadleaved crops from canola, peas, beans, sunflowers, and linseed. Exercise extreme caution, however; clethodim is only marginally safe on certain crops, so consult an agronomist. And NEVER ever tank mix clethodim with anything else.
Wheat Harvest Results
The wheat variety trial and 'league table' is without doubt one of the most hotly anticipated pieces of research that we do each season. The objective is to provide information to enable farmers to choose a variety that is suitable for their region, and to provide some knowledge of how to grow them.
For a crop as important as wheat, it is important to get it right! For this reason, we generally try to keep the trial to a maximum of 14 varieties in order to focus on doing a top-quality job, on the varieties that are relevant to farmers.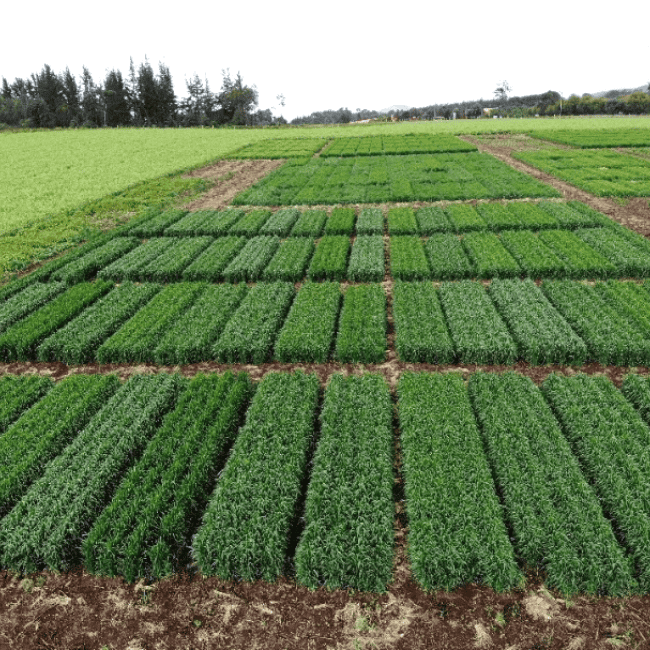 There will always be new varieties coming along, and by the time they get into the main trial known as 'Stage 3', they have been through at least three seasons of trialling, giving us confidence in their potential.
The rest of the trial is made up of widely grown, reliable, and trusted varieties to provide a comparison against the newer introductions.
This year has actually seen no new introductions, as we have not been convinced by any new varieties that have come through the earlier stages; in other words, the existing varieties are still the top performers.
First up is Hawk, which was only included at one site in Meru where it has on several occasions been the top performer. If the Stem Rust weakness is managed, Hawk is usually one of the top yielders at this site, but it is also the least consistent wheat that I have ever grown. Anywhere!
| | | | | | | |
| --- | --- | --- | --- | --- | --- | --- |
| | Timau | Meru | Nakuru | Moiben | Nyahururu | Five-site mean |
| Control yield (T/ha) | 3.63 | 11.55 | 8.44 | 3.7 | 3.24 | 6.11 |
| Hawk | – | 107 | – | – | – | 107 |
| Kasuku | 105 | 98 | 99 | 122 | 103 | 105 |
| Impala | 107 | 97 | 101 | 122 | 99 | 105 |
| Robin | 96 | 103 | 103 | 100 | 106 | 102 |
| AGV249 | 105 | 93 | 99 | – | 96 | 98 |
| Korongo | 90 | 98 | 99 | 76 | 117 | 96 |
| Mwera | 99 | 99 | 98 | 78 | 91 | 93 |
| Jacana | 87 | 93 | 94 | 73 | 103 | 90 |
| Hyrax | 92 | 92 | 94 | 78 | 91 | 89 |
| Brambling | 87 | 91 | 99 | 62 | 89 | 86 |
| Njoro2 | 90 | 81 | 80 | 68 | 93 | 82 |
| 5% LSD as a % of control | 8.8 | 4.7 | 9.0 | 14.5 | – | – |
*The control is the average yield of Mwera, Robin and Kasuku – three widely grown varieties.
In second place is Kasuku; this was included at all sites so is really the true top variety. Kasuku had a tough year in 2022 which was unusual, so it is good to see it back at the top. I always emphasize the risk of sprouting in Kasuku; if you often have rain at harvest, it is not the most sensible variety.
It is very encouraging to see Impala, a relatively new introduction, performing very well across all sites. As I have said before, if you are growing a quality white grain wheat Impala is a no-brainer; it has better all-round disease resistance and better standing power than Korongo as well as higher yield.
Robin performed well and is always very consistent; hence why it is still included 14 years after its introduction. We all know about the Stem Rust risk, so only grow this in an area that you can spray within 3 days, and in the main season / Long Rains when disease pressure is usually lower.
At mid-table AGV249 continues to perform well in Timau, but in other areas of the country is less consistent. AGV249 is a very fast-developing, shy-tillering variety; my instinct is that at lower altitudes the variety moves through the growth stages too quickly and with too few heads.
Mwera had a disappointing season for such a widely grown variety, but it still possesses excellent all-round disease resistance and grain quality. Also low down are Jacana and Hyrax; these two tend to perform okay in the Rift Valley, but at higher altitudes are less impressive.
And in the relegation zone is Njoro 2 – a variety that if nothing else is consistently low-yielding! At 20% below Robin, Impala, and Kasuku, on a 4 t/ha crop the difference in yield is worth over 45,000/- per hectare.
Top Wheats For 2024:
Narok – Mwera
Mau Narok – AGV249, Kasuku
North Rift – Kasuku, Impala
Southern Rift, Nakuru – Mwera, Hawk, and Jacana
Timau – AGV249, Mwera, and Kasuku
Laikipia – Mwera and Impala
*AGV249 is still in National Performance Trials and subject to release.
Till next time,
David Jones,
Independent Agronomist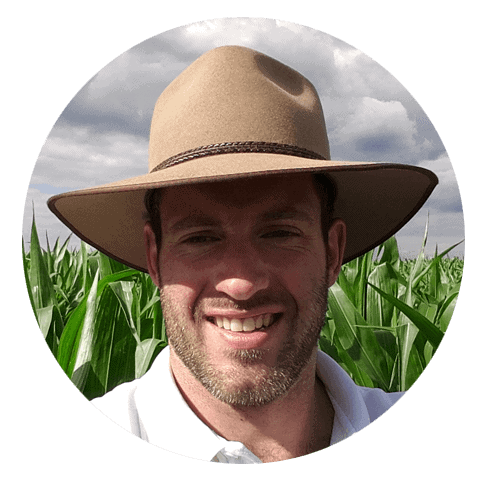 David is an independent agronomist in Kenya and a member of the Association of Independent Crop Consultants. David gives independent advice based on scientific trials and experience. Currently works with the Centre of Excellence for Crop Rotation.
Think Agronomy is brought to you by Cropnuts and the Centre of Excellence for Crop Rotation. We share the same vision for sustainable, dryland farming across Africa, and Think Agronomy is our independent voice to promote profitable, climate-resilient farming through better management of soil health, systems-based agronomy, crop diversification, and farm mechanization.